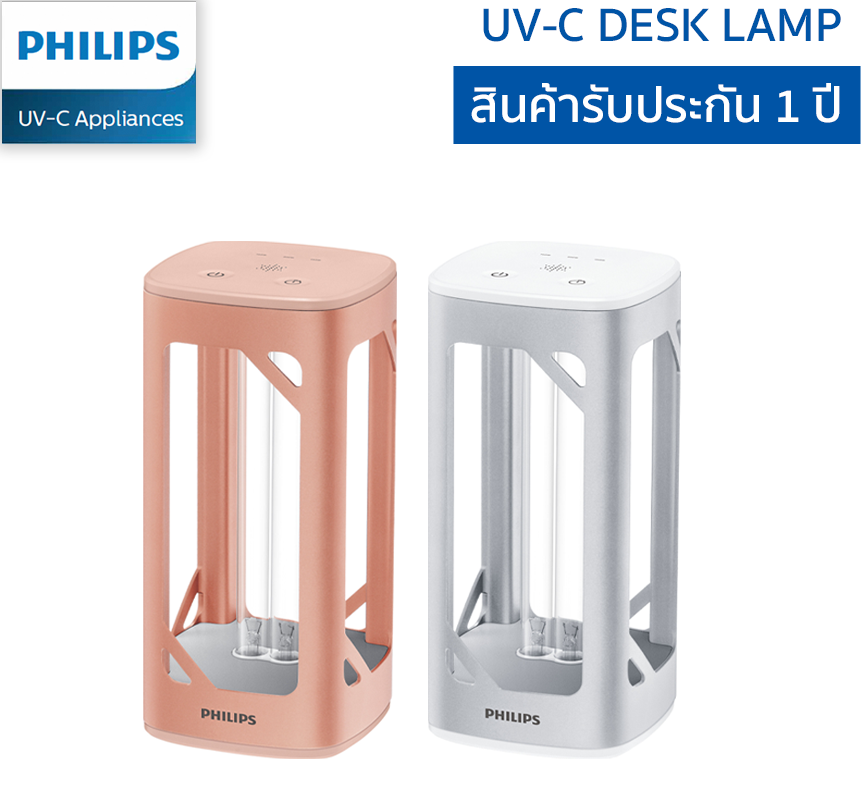 Phillip UV-C Desk Lamp ( Silver / Rose Gold )
Benefits

MOTION SENSOR: Built-in motion sensor detects movement from humans and animals, immediately turning off the light.

EASY-TO-USE: Step-by-step voice guidance and a clear control panel with time safeguard of 45, 30 and 15 minutes.

EASILY PORTABLE: Easily portable UV Sanitizer/Sterilizer due to light weight and compact size.

PROVEN TECHNOLOGY: Philips has 35+ years experience in UV-C lighting and strong application expertise.

MAINTENANCE FREE: The UV-C Disinfection Lamp is disinfecting so minor dry cloth cleaning is all that is required.

EASY TO CONTROL: Long power cable allows perfect placement in the middle of the room

HIGHEST LAMP QUALITY / DEDICATED DRIVER DESIGN: Besides the high quality of the Philips UV-C tube, the dedicated driver design helps maximize the disinfection effectiveness.
Specifications:
Dimensions 12cm x 12cm x 24.7cm
Voltage 220-240 V
Wattage 24 W
Net weight 0.8 kg
Recommended Time to Disinfect Examples
Living Room (28 sq m with 3m range): 45min
Bedroom (20 sq m with 2.5m range): 30min
Personal Washroom (13 sq m with 2 m range): 15min

Datasheet Phillip UV-C Desk Lamp