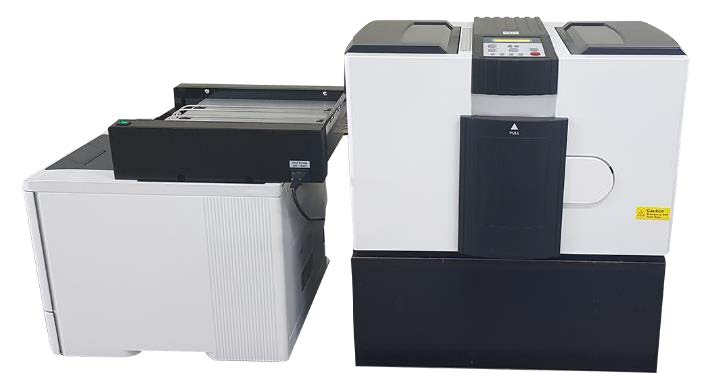 Welltec SecureFold 4090s+inline
SecureFold 4090s is a dependable and reliable mid-range desktop pressure sealer. Up to 800 sheets can be loaded into the feeder and processes at speeds up to 9,000 sheets per hour. It provides Superior FRR (Friction Reverse Roller) feeding system and user-friendly operator's control panel.

Large Capacity In-feed Tray
Easy to load, auto-lift in-feed hopper holds up to 800 pressure seal forms for time-saving throughput processing.

Friction Reverse Roller (FRR)
Unique FRR system automatically detects, separates and feeds doubles without any operator intervention for productivity increase.

Auto-slide Conveyor / Vertical Stacker (Option)
Conveyor extends automatically dependent upon the number of forms being processed. Easily stacks up to 600/700 processed documents.

Easy & User-Friendly Interface
Includes an easy-to-use auto stop and auto restart function, electronic thickness detection and batch counter.
Specifications :
Mode stand alone, folding and pressing speed 9,000 sheets/hour




Mode inline, maximum folding and pressing speed of 3,720 sheets/hour

(depending on the printer)

Compatible with printers at speeds up to 62 sheets/min.




It is a folding and sealing machine using only pressure, not heat.




Able to fold and seal paper with a thickness of 80-120 gsm/square meter.




Able to support sheet paper size A4, Letter, Legal 14", B4.

Z-Fold, V-Fold, C-Fold formats can be folded.




3FRR Paper Pickup Set




There is a paper thickness sensor. prevent paper stacking




here is a screen showing the number of folded papers. and set the number of folds in advance or set up a set of folding




There is a folding pattern and the position to adjust the machine




Machine dimensions (Width x Length x Height) 420 x 600 x 390 mm. Weight 48 kg.




Made from South Korea




1 year product quality guarantee




Datasheet Welltec SecureFold 4090s+inline