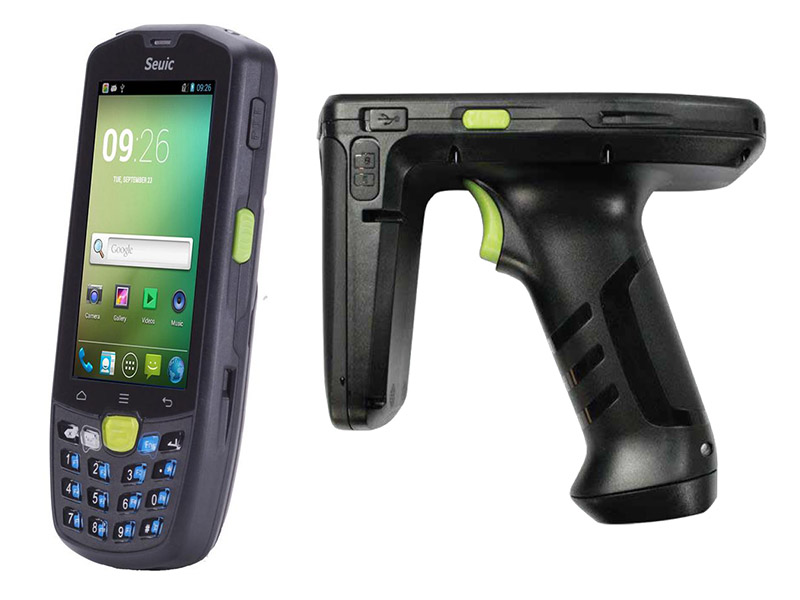 AUTO-ID 9.0 SERIES
The Auto-ID9 is a rugged smartphone with optical fingerprint scanning and an RFID reader. It runs on the Android 9 operating system and features a 4" touchscreen display, a 1D/2D barcode scanner reader with Bluetooth 4.0 and IP67 vecrification.
Specification
Android OS 9.0

CPU Coretex-A53 Octa-core 1.8GHz.

1D/2D Engine ; Support 1D Barcode option1/2 2D barcode option 3/4/5

3GB RAM, 16 GB ROM (Support SD Card, 32GB SDHC compatible)

Read Camera 8 Mega Pixel

Wifi 802.11 a/b/g/n/ac , Bluetooth, 3G/4G support , HF 13.56 Mhz/NFC Support

LED buttons with backlight , 4" Display ISP Touch Screen with 17 keys / 22 crystal Keys.

Battery 4000 mAh

IP67 , 1.5Metre Drops to concrete across the operating temperature range.

Accessories : Pistol Grip, Single Cradle (USB or Ethernet) etc.

DATASHEET SEUIC AUTO-ID9.0 series